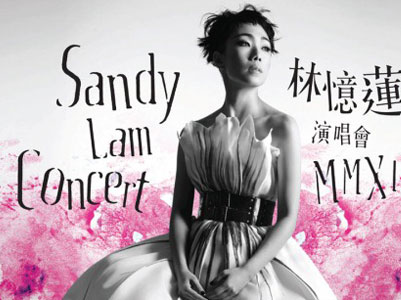 Those of you who grew up listening to Cantonese and Mandarin pop music from the mid 80's all know this wonderful and talented singer. For the few who don't: Sandy is Hong Kong's most top artiste with a fantastic voice, a great reputation of high femininity and stylishness, and popular in every corner of the Chinese speaking world from remote corners of Mainland China to the Chinese communities in Canada, USA and Europe.
Her repertoire emerged from Japanese teen pop style to a diverse mix of music genres including light jazz, fusion, blues, house, R&B, dance pop and soul.
On Tuesday 29th of October Sandy is giving her first and solo concert in Europe in the Hammersmith Apollo in London. Furthermore it is the very last stop of her World Tour that has been travelling the world for 2 years!
She started this world tour in 2011 to celebrate her 26th anniversary in the music industry; she performed in Hong Kong, China, Malaysia, Singapore, Canada and USA. Besides a lot of her golden songs e.g.《愛上一個不回家的人》 , 《至少還有你》 and 《瘋了》; she will also perform new songs of her latest album Gaia 《蓋亞》with which she brings a whole new, more experimental and rock element to her repertoire. We are looking forward to see the elegant and sensual Sandy, but also the more tough and alternative Sandy. Please note that tickets are limited because of the intimate setting of the Hammersmith Apollo. So buy your tickets now! And show your support and love for this wonderful pop diva!