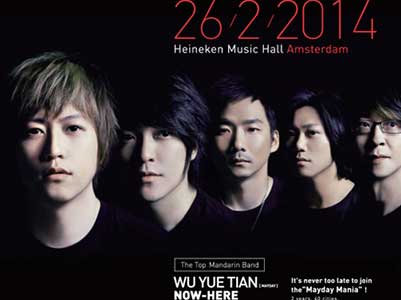 WuYueTian NOWHERE – First European Tour
At Wednesday 26 February 2014, the most popular Mandarin rock band WuYuTian will perform at the Heineken Music Hall, Amsterdam.
Nicknamed the "Kings of the Rock Concert" by the Asian media and "The Chinese Beatles" by the Washington Post, WuYueTian's NOWHERE World Tour has already been on the road for two years, taking in 40 cities and playing to 71 packed venues and 2.48 million fans (exceeding Madonna's MDNA Tour). Their concert in the Heineken Music Hall will be the 75th show in this World Tour and is the last stop in this European tour before they continue to travel to the USA and Canada.
WuYueTian has released 8 albums to date, sold over 20 million concert tickets in total, won over 150 awards across the globe, including Best Mandarin Album for their 2011 album "Second Round" and Best Band an unprecedented four times at the Golden Melody Awards (the Chinese Grammy's) in 2001, 2004, 2009 and 2012.
It's never too late to join the "Mayday Mania"!
Ticket sales of WuYueTian NOWHERE TOUR Amsterdam concert start  Friday 15 November 2013.
Tickets are available through www.ticketsmaster.nl – www.orientouch-e.com.
Chinese hotline: +31 (0)20 6240 194 (Mon – Fri, 11:00 – 18:00)